Friday, September 13, 2019
Venture investors still aren't sure what to make of SoftBank's $100 billion Vision Fund. Depending on who you ask, they're either rooting for it, or gleeful that it's struggling with WeWork and Uber.

https://t.co/6he6pTkBej

— Matt Turner (@_bmturner_) September 13, 2019
100 billion dollars is a lot of money, but it is not too much money for all the innovation that needs to happen, that will happen, with or without the Softbank Vision Fund. So where did the Vision Fund go wrong?
Masa by now has the wrong vantage point.
A tech startup can fail every step of the way. It can fail post-IPO.
But veterans (and give him credit, he has a Steve Jobs-like aura ... he has a stellar record) like Masa learn to become cautious and careless at the same time. Cases in point: Uber and WeWork.
It is hard to spot Uber and WeWork in their early rounds. But by the time they become unicorns, you think, okay, I missed out when it grew from one million to one billion in market value, but now I got it. If I can hop on now, I will still likely see a 100X growth to my investment, when 10X is considered excellent.
But then things go topsyturvy. Elon Musk wants to eat Uber alive. WeWork starts crumbling down right before your eyes post-IPO.
Both are sound companies. Both shifted the paradigm.
Masa picked Alibaba when Alibaba was really young. He has to go to those roots. Maybe it is hard to do. But there are enough early stage companies in the world today that will easily absorb 100B, or whatever is left of it after Uber and WeWork, two dud investments of Masa.
Softbank's Problem: Vision, Not Money https://t.co/gOleWxeAzw @SoftBank @SoftBank_Group @SBREurope @SB_Robotics @Uber @WeWork

— Paramendra Kumar Bhagat (@paramendra) September 13, 2019
Thursday, August 29, 2019
LIVE: Billionaires Elon Musk and Jack Ma debate at World AI Conference in Shanghai https://t.co/WpobXra74U https://t.co/RcNiyyF1Pt

— Bloomberg (@business) August 29, 2019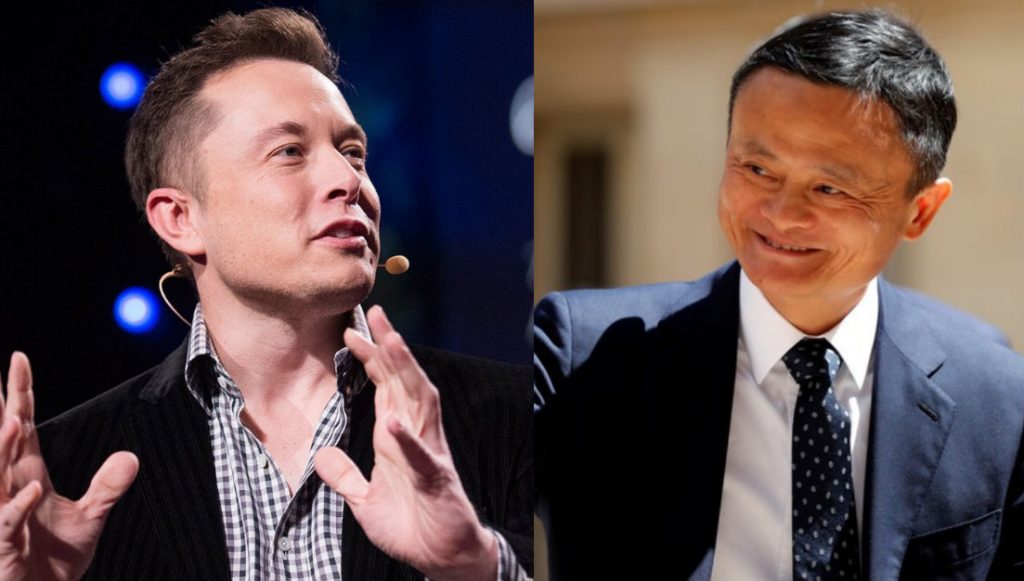 Friday, April 19, 2019
Elon Musk hit speed bumps with the SEC, and Elon Musk fans think he is a hero.

I never really read much about Elizabeth Holmes during the decade when she was ascendant, although I meant to. It was interesting a woman was doing it. Also, this was not some photo sharing app. She was marrying bio with infotech. I thought that was really something.

There's a picture of Holmes sharing stage with Bill Clinton and Jack Ma. If that is not social acceptance, what is? She put Henry Kissinger on her Board. She raised money from Larry Ellison, not my idea of a gullible guy. Tim Draper still defends her as a visionary who got wronged and got bullied by white men in black suits.

What happened? I don't know. I am not in a position to know.

But think about it. There is as much information in one drop of blood as in 100 drops of blood. And it should be possible to extract all information from that one drop of blood and to digitize it. And once you have digitized it, you should be able to scale it. Whether you look for cholesterol one time, or next time you look for another needle in that haystack, there is no difference. You can do it.

The basic premise feels doable to me. Somebody should be able to do it in less than 10 years from now. Too bad it was not Elizabeth Holmes.

Otherwise she attempted something Marissa Mayer did not, Sheryl Sandberg did not.

She was not the scientist who built what needed to be built. She started with a vision. She raised a lot of money. She hired the best of the best. She did all that an entrepreneur is expected to do.

If she is a fraud, she is a really good fraud. The movie on her should beat Catch Me If You Can at the ratings.

But then Steve Jobs, her hero, could not have put together the PC. It was the engineer Steve Wozniak who did that. On the other hand, there was no way Woz could have built a company. And very soon Apple did hire a ton of engineers such that when Woz left to teach elementary school, Apple did not exactly suffer.

So not being a scientist is not a fraud.

Bill Gates came up with something like an iPad in the late 90s. But the product did not take off. Was he a fraud? Was he ahead of the times?

This is not me defending Holmes. This is me asking some questions.

You could not have built YouTube in 1995. Maybe this Theranos experiment was a decade too early.

Being in stealth mode is not fraud either. The iPhone was built in super stealth mode. Theranos being in stealth mode for 10 years, is that too long though? I don't know. The iPhone unit stayed undercover for something like two years, maybe more.

The media did a remarkable job of building her up for over a decade. Then it spent a few years tearing apart her image. So the media reports are not reliable gauges.

Was this failure? Was this fraud? Was this an attempt too early? Like trying to build YouTube in 1995? 10 years too early?

Holmes did manage to articulate a valid vision. She did manage to raise money from people like Larry Ellison, who does not strike me as gullible. She did manage to put Henry Kissinger on her Board. That guy dealt with Chairman Mao. She did manage to hire the best of the best in the field.

Google has had hundreds of failures many of which you don't know about.

Granted a photo-sharing app is different from a blood testing tool.

Maybe a PhD is not such a bad idea after all.

Or, more likely, the scientists that would bring the valid vision to fruition simply have not existed. You can't find those PhDs that you need. They don't exist.













Let's set the record straight: https://t.co/as2yHBlK9W

— Elizabeth Holmes (@eholmes2003) October 15, 2015
There is no dream you can't achieve. Don't let anyone tell you otherwise. #ILookLikeAnEngineer pic.twitter.com/RxiAhXdP89

— Elizabeth Holmes (@eholmes2003) August 20, 2015
Congrats to the amazing @serenawilliams on SI Sportsperson of the Year. Keep shattering glass ceilings #ironsisters https://t.co/DSu2znq3eV

— Elizabeth Holmes (@eholmes2003) December 15, 2015
Health is a basic human right, for every single person. #HumanRightsDay pic.twitter.com/RNV8jqYwEf

— Elizabeth Holmes (@eholmes2003) December 11, 2015
History. #BreakingGlassCeilings https://t.co/Q2raKEXfpw

— Elizabeth Holmes (@eholmes2003) December 4, 2015
Our technicians shared their stories about why they got into the business of helping others: https://t.co/9vEXbUKaVp pic.twitter.com/mGOuhaAjhM

— Theranos (@theranos) December 2, 2015
On this day 60 years ago, a brave woman stood for what she believed in and changed the world. #RosaParks #ironsisters

— Elizabeth Holmes (@eholmes2003) December 2, 2015
So wonderful to see @melindagates recognized for her incredible work. When women help women, change happens @forbes https://t.co/X4S0FKlBkc

— Elizabeth Holmes (@eholmes2003) November 25, 2015
From a woman, physicist, and chemist who changed the world of science forever. #STEM #MondayMotivation #ironsisters pic.twitter.com/nxRMLDWgET

— Elizabeth Holmes (@eholmes2003) November 17, 2015
Elizabeth Holmes: Fraud? Failure? Non-Technical Visionary? First Attempt? https://t.co/5bMWJO6Lxf @TimDraper @eholmes2003

— Paramendra Kumar Bhagat (@paramendra) April 19, 2019
Elizabeth Holmes: Fraud? Failure? Non-Technical Visionary? First Attempt? https://t.co/5bMWJO6Lxf @nickbilton

— Paramendra Kumar Bhagat (@paramendra) April 19, 2019
Monday, March 16, 2015
Jack Ma and Elon Musk are the two most exciting entrepreneurs on the planet right now. They come from two different ends. Jack Ma is coming from the China end, the Third World end, the Global South end. Elon Musk is coming from the rich country end where he is going to beat the bullet train and go to Mars, and what have you.
Elon Musk is more exciting than Larry Page right now. As to why Larry Page will not sink 20 billion into taking every human being online TODAY beats me! Google's search advantage will not last forever. And so it needs to cash it now, today.
If the smartwatch takes off, Tim Cook will have proven himself. And Steve Jobs will have proven himself. Jobs liked to say the most important thing he built is the company Apple itself, not the Mac, not the iPhone. Although I am not convinced the smartwatch alone can take Apple to being a trillion dollar company. I am on record saying that company is Google. But Larry Page has been a partially absent CEO. A CEO needs to be seen, needs to be heard, like Marissa Mayer was visible when she was with Google. Most of your talk is consumed internally, even when they are publicly made. People inside your company are watching.
But then I was not excited about the iPad when it came along. I am an active user. I don't passively read. I was like, no keyboard? Get out of here. But the iPad has been a monumental product. Right now I feel like the smartwatch is not for me. Just give me a phone with a battery that lasts twice as long. And I am happy. I actually like not having something around my wrist. I like that sense of freedom. My phone is my watch. And it is a smart one too. It is not for me, that does not mean it is not for other people. I will wait and watch.
Right now I am thinking the smartwatch is Apple's Google Glass. It will not die, but it will not go mainstream.
Monday, December 22, 2014
Jack Ma, Founder of Alibaba Group (Photo credit: Wikipedia)
Entrepreneurs can be great investors. They are out there making moves. Some times they spot opportunities that they themselves can not execute on. There is a reason VCs listen to entrepreneurs they respect when it comes to investment decisions, like whne Peter Thiel listened to Sean Parker and invested 500K in Facebook very early on.
Finding Alibaba: How Jerry Yang Made The Most Lucrative Bet In Silicon Valley History
Yahoo's board agreed to sell 523 million Alibaba shares, half of its stake, back to Alibaba at $13 apiece. Yang hadn't been so keen to sell. They did anyway. By then he'd quit the board. Sure enough, Alibaba's IPO last month rocked global markets. Shares of the Chinese e-commerce giant are now worth around $90. Yahoo still has a 16% stake worth $36 billion, but it left almost as much money on the table–some $35.5 billion–as its entire current market capitalization. ....... When the official history of Silicon Valley is (re)written, it will be hard to judge which of Yang's achievements is bigger: starting Yahoo or betting early on Jack Ma, chairman and CEO of Alibaba. ....... Nine years ago, before Yang was CEO of Yahoo, he spent $1 billion of Yahoo's money for 30% of Ma's company. He knew the asset would be hugely valuable someday and refused to sell Yahoo to Microsoft when Steve Ballmer came calling in 2008, a decision that cost him his CEO job. Yahoo's current CEO, Marissa Mayer, can do whatever she wants to put a better face on things, but Wall Street has marked her business down to zero. It's now a proxy for Alibaba, and that was all Yang's doing. ...... guess who's getting a seat on Alibaba's board post-IPO: nobody affiliated with Yahoo except Yang. His clear-eyed and early confidence in Alibaba has brought a whole new appreciation to his role as Silicon Valley's new East-West power broker..... Yang has deep ties in Asian tech circles and will be there to point Jack Ma and the others in the right direction. ..... Earlier this year Tango, a messaging-app firm in Mountain View, Calif., took on $215 million from Alibaba at a $1 billion valuation, a deal that Yang helped along through his connections to Jack Ma's deputy. ..... His new role of superangel offers a chance to shed his reputation as a bounced-out business mogul. Under his watch Yahoo steadily lost search and advertising share to Google. It also let Facebook slip through its fingers in 2006 by dithering over a $1 billion price tag. .... "I wanted to get back to being close to entrepreneurs," says Yang, sipping Taiwanese green tea and ignoring his smartphone for an hour straight. ..... Yahoo's fortuitous connection with Alibaba would never have happened if a Japanese telecom billionaire named Masayoshi Son hadn't made a detour to Mountain View in 1995 to sit down with the young Yang and Filo. ..... The next day Son went to Mountain View and had take-out pizza and sodas with the young Yahoo founders. SoftBank invested $2 million for a 5% stake in Yahoo, putting in another $105 million in 1996 and then another $250 million in 1998 to take as much as 37% of the company at one point. ...... While Yahoo Japan began gaining millions of customers, Yang took his first trip to China in 1997. A junior staffer in the economic ministry was assigned to take Yang on a tour of the Great Wall of China. His name was Jack Ma, a former English teacher who had tried and failed to start a Chinese version of the Yellow Pages. ..... "Jack was one of the first people I ever met [in China]," Yang says. ........ Along the hike the two hit it off and talked about the growth of the Web. "He was very curious about what it's like on the Internet and what the future might be." Several months later Ma began building another startup based on grand and rather vague plans to connect Chinese companies with the rest of the world. He called it Alibaba. ...... BY THE SPRING OF 1999, the height of the dot-com bubble, Yahoo had bloomed into one of the most popular websites on Earth, and Son was briefly almost as rich as Bill Gates. Ma's Alibaba outfit was piddling by comparison, just a handful of people working out of his apartment in Hangzhou. ........ But Son found him during his periodic hunts for new investments. After visiting Ma for the first time, Son recalled that he liked "the look in [Ma's] eye" and his "animal smell. It was the same when we invested in Yahoo, when they were still only five or six people." Son put $20 million into Alibaba, before eventually amassing a 37% stake in the company, even as the dot-com crash wiped 99% off of SoftBank's market cap and close to 90% of his net worth. ............ The star attraction at the event: Robin Li, CEO of search giant Baidu. Though Ma's startup had swelled to 2,400 employees and $50 million in sales, Alibaba's future looked uncertain. EBay had bought Ma's auction-site rival EachNet two years prior and was dominating the market. Ma needed funding and hoped to get it from talking to Li, according to people who attended the summit. ........ Ma stood on the sidelines while bankers, keen to underwrite Baidu's IPO, scrambled to tee off with Li. As a nongolfer Ma even found himself the subject of a teasing, $100 bet by other delegates: Which newbie could drive the golf ball the farthest–the slight Ma or the brawnier founder of SoftBank-backed UTStarcom, Ying Wu? ....... At the cocktail reception later that day Yang started talking to Ma, his old tour guide from eight years before. ...... Soon they slipped out through the patio doors ahead of a steak-and-seafood dinner and headed for the beach, a five-minute walk away. Within 30 minutes they had talked–mostly in Mandarin–about a partnership that would change the fortunes of both their companies. ....... Ma later told venture capitalist Deng that he had never expected to negotiate with Jerry at Pebble Beach. "Somehow they just chatted and then found out it was a good idea," Deng remembers. "They made the decision quickly." ...... "The Chinese ecosystem was not really Jerry's natural habitat," says Carmen Chang, a lawyer who helped lead Google's 2005 investment in Baidu. "It meant he had to work harder." ....... The deal was exceedingly complex, and both Yahoo and Ma almost walked away a few times. At a CEO conference last March, Ma recalled that Yang eventually sat him down for dinner at a small Japanese restaurant and convinced him over a glass of sake. ........ THE ALIBABA DEAL ALWAYS looked a bit risky. Even Yang had to be talked into doing it initially. Half of Alibaba's value was attributed to Alipay, an online payment service, and Taobao, the e-commerce site that was up against eBay's EachNet. Both were losing money. But Yang says he was captivated by the founder. ... "Once you meet an entrepreneur like Jack Ma, you just want to make sure you bet on him," he says. "It's not a hard decision." .......... EachNet, the rival that looked like it might kill Alibaba, was doing just as badly as the brawny golfer who'd hacked at the ball at Pebble Beach. EBay's management insisted on controlling the Chinese firm from San Jose, demanding a 3% charge for listings and a standardization based on eBay's technology, slowing the site down. Ma watched and learned. ...... With its $1 billion investment from Yahoo, Alibaba held off on charging for listings, prompting merchants to flee EachNet for cheaper, faster Taobao. By spring 2007 Taobao had taken 82% of the online auction market, leaving EachNet with just 7%. ...... Activist investor Dan Loeb won a proxy skirmish and grabbed three board seats. He called for Yang's head and got it in January 2012, when Yang finally stepped down from the boards of Yahoo, Yahoo Japan and Alibaba. ..... Yahoo sold half its stake in September 2012 for $7.1 billion before tax, or $13 a share. (Alibaba would close at $94 exactly two years later.) ..... "In some ways the Americans got played," says hedge funder and Yahoo investor Eric Jackson. "Yahoo panicked while Masayoshi Son kept his head down. If Jerry had been around, he would have had the long-term view as well." ....... Yang brokered one of the first successful Asian investments in the messaging sector earlier this year when he introduced Alibaba to one of his investments, Tango, which has more than 200 million registered users. While Alibaba had its own Chinese messaging service, Laiwang, it wanted a presence outside the country and in March invested $215 million, valuing Tango at $1 billion.
Friday, June 06, 2014
English: Left to right, Eric E. Schmidt, Sergey Brin and Larry Page of Google Polski: Od lewej do prawej: Eric E. Schmidt, Sergey Brin i Larry Page z firmy Google (Photo credit: Wikipedia)
The only way Google can grow like crazy - and crazy is double digits - year in year out is if it gets a few more billion people online fast. Universal internet access is still
Google's
best bet, a better bet than Google Glass - duh! - and the Google Car. It is imaginable when one company dominated the
PC
operating system, but it is harder to explain why one company dominates online search. You were told growing up the competition was only one click away. But Google does. And so no matter how you play it, Google benefits simply by getting more people online. As in, it can simply keep offering the services it offers, and bring in three more billion people online, and it will have passed 500 billion in
market value
, and that 500 is a conservative estimate. I am surprised it is spending only one billion on satellites. Google should spend 10 billion, maybe 20 billion, and get everybody online already, like within a year, or two, before
Obama
passes out of office. This is not charity yo, this is big business. Waiting would hurt. If Google takes 10 years to get everybody online, there is no telling another search engine will not show up. 10 years are a long time in tech innovation. Maybe
Jack Ma
has a cousin or two. This is called printing money. This is called zero risk taking. This is harvest time for Google. The hard work has already been done, and the money is sitting in the bank like banana.
For every billion Google spends to get more of the world's people online, its market value is going to go up by at least two, maybe five, sometimes 10. Bhagat's Google Law, if you need a name for the easy math.
Saturday, May 24, 2014
English: Jack Ma speaks during The Future of the Global Economy: The View from China plenary session at the World Economic Forum Annual Meeting of the New Champions in Tianjin, China 28 September 2008. (Photo credit: Wikipedia)
And there is this whole
Jack Ma
angle. Alibaba showed up in
America
with a bang. This guy is not even a coder. And he has created this ecommerce behemoth in
China
. Like I said at one point, Jack Ma is the new
Jack Welch
.
A lot of what we think about China gets colored by the
Tiananmen Square massacre of 1989
. There are genuine issues of free speech and democracy, but one can not stop but take a good look at some genuine innovation that is coming out of that country.
China is getting global in a big way. OnePlus is the newest example where a Chinese company is out to eat the lunch of companies like
Apple
,
Samsung
, and
Google
. China is not just the
back end
factory for your front end brand name. We live in era when people display their status more through their phone than their car or house. If there OnePlus is going to do well, all bets are off.
OnePlus is making smartphones the way smartphones are supposed to be made.
OnePlus: The Company
Culprit: Kitkat
OnePlus One Launch Keynote
OnePlus One
The $50 Phone
The Chinese Are Coming
Jack Ma Is The New Jack Welch
The Alibaba IPO