Friday, November 15, 2019
Sunday, November 12, 2017
Forbes cover 10 years ago. pic.twitter.com/EBlHpdRDsl

— Mikko Hypponen (@mikko) November 12, 2017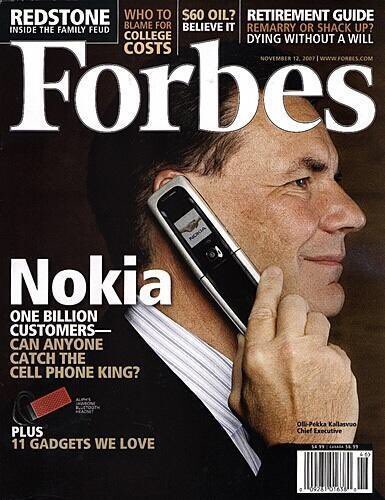 Thursday, October 23, 2014
I liked two step
authentication
when it came along.
Google
is at the center of my digital experience. Android is an easy choice for me. I might still get snooped upon for I use many services online. But if I can at least be sure my
Google ID
will not be compromised, that is a lot of peach of mind.
And now there is a
physical key
. That would make it even more secure. But I would not want more than one key. This three step authentication and the ability to Google
sign in
into a whole bunch of services would take care of a lot of security issues.
The Second Coming Of Sign In With Twitter
Sunday, October 19, 2014
Geocities
died and I lost a lot of my articles I had published there.
Google
Video died and I lost hundreds of my videos, most of them hour long. And now this rumor is unnerving me. I have thousands upon thousands of pictures on
Google+
. Not only that, it is my favorite
photo sharing
app. I really like its tight integration with my phone. I am squarely in the
Android
camp. ("I am a man of the people!" -- Laloo Yadav) Why would Google even think of killing Google+? Not only is it my favorite photo sharing app (I really like how photos from my phone upload themselves) I also greatly like the Google+ Communities.
Google+ Is Dying. What's Your Exit Strategy?
Wait, I did a search on "paramendra bhagat geocities" and look what I was able to dig up.
About Paramendra Bhagat
(my first website)
Paramendra Bhagat
Writings by Parmendra Bhagat
I guess they are still there. Now if I only I could find my Google Video videos. But I doubt it. At the time I remember opting for
Google Videos
over the newly launched
YouTube
. I figured Google is a company that will still be around decades from now, and so my videos will be "safe!"
google video and nepal movement for democracy
Thursday, October 09, 2014
Low Price, High Hopes for OnePlus Phone
I've been using the One for the last couple of weeks, and I've found it to be one of the best smartphones I've ever used. The One has a beautifully spare design, it's loaded with the latest tech specs, and it runs CyanogenMod, a version of Google's Android operating system that is far more flexible and easier to use than the cumbersome flavors of Android now stuffed into rival phones. Best of all, the One sells for $299. ...... Samsung's profits are being battered by the intense competition from low-priced rivals. .... of OnePlus's global staff, a third of the employees are from Asia, a third from Europe and a third from the United States. "We don't really think of ourselves as a Chinese start-up" ..... the One is similar to Google's Nexus 5, another high-quality, low-price phone — but over all, the One is more powerful, and far prettier, than the Nexus.
Saturday, May 24, 2014
Original flavor KitKat purchased in Atlanta, GA, USA in Feb. 2005 (Photo credit: Wikipedia)
It was easy. You google up the matter, and you get reminded you reset your phone like the last time
Android
sent you an updated version of the operating system.
There was resetting the phone, which also freed up a lot of space on my 8 GB phone. And then there was turning off a
Google+
feature. Now photos on my phone only get uploaded online when the phone is on wifi and when the phone is connected to a charger.
The auto upload feature is why Google+ is my top choice for photo upload and sharing. But that was also draining my battery.
Now my phone feels more normal. So much so that I still want a
OnePlus One
phone, but I am not in a desperate hurry.
My external battery clocks at 10,000
mAh
. That is what I carry. So it is like carrying two phones. But it's worth it for the peace of mind that my phone will quite literally never run out of juice during the course of the day. When your smartphone is your
personal assistant
, you tend to use it with some intensity.
I am thinking a 5,000 mAh inside a phone might finally do the trick.
Another reason not to be in a big hurry for the One is the idea of actually being with people when you are with them. Face time is also good for the phone battery.
English: Jack Ma speaks during The Future of the Global Economy: The View from China plenary session at the World Economic Forum Annual Meeting of the New Champions in Tianjin, China 28 September 2008. (Photo credit: Wikipedia)
And there is this whole
Jack Ma
angle. Alibaba showed up in
America
with a bang. This guy is not even a coder. And he has created this ecommerce behemoth in
China
. Like I said at one point, Jack Ma is the new
Jack Welch
.
A lot of what we think about China gets colored by the
Tiananmen Square massacre of 1989
. There are genuine issues of free speech and democracy, but one can not stop but take a good look at some genuine innovation that is coming out of that country.
China is getting global in a big way. OnePlus is the newest example where a Chinese company is out to eat the lunch of companies like
Apple
,
Samsung
, and
Google
. China is not just the
back end
factory for your front end brand name. We live in era when people display their status more through their phone than their car or house. If there OnePlus is going to do well, all bets are off.
OnePlus is making smartphones the way smartphones are supposed to be made.
OnePlus: The Company
Culprit: Kitkat
OnePlus One Launch Keynote
OnePlus One
The $50 Phone
The Chinese Are Coming
Jack Ma Is The New Jack Welch
The Alibaba IPO
Sunday, May 18, 2014
As interesting as the phone is the company itself. It is a new company coming out of nowhere. It is Chinese origin. Something like this is known to happen more in software than in hardware. You come out of nowhere to bring the top product in the market. This is quite telling.
When
Jack Ma
of Alibaba has become the new
Jack Welch
, and
China
is about to overtake America to become the number one economy in the world, it is quite a statement that this Chinese hardware startup is putting this phone in our hands. And it is following
Google's
Nexus business model. The idea is to make no money in the beginning. Google can afford that, but how can a hardware startup? That also is how software companies launch. They make money much later.
The direct sell model is what Dell did for
PCs
decades ago. That should be even more possible for smartphones. They are physically smaller.
This is also a window into the future of manufacturing, not just smartphones but pretty much everything. Smart manufacturing is where consumers are involved in more and more aspects of the process in intelligent, engaged ways. The result is greater satisfaction.
Smart manufacturing adds a whole new dimension to manufacturing, just like green/clean manufacturing does.
From Oppo to OnePlus: a new company wants to build the next great smartphone
New OnePlus One mobile promises to topple Samsung, HTC and company
For those prices you'd be forgiven for assuming that the One will be a mid-range device, however, OnePlus is putting the One out there as a "2014 Flagship Killer." In short, it's taking aim at devices like the Samsung Galaxy S5 and the HTC One M8 – and its specs list appears to back up all the big talk..... The first OnePlus One handsets will be available from Friday, with the first 100 applicants able to buy a device for $1 in return for smashing their current handset(!).
Revelation that OnePlus is Oppo's sister company causes uproar – is it deserved?
For a company that's not even six-months old, OnePlus has done pretty well so far. Portraying itself as an ambitious startup eager to disrupt the status quo with an affordable, no-compromise device, OnePlus managed to create a huge amount of hype around the OnePlus One. In terms of publicity and engagement, the launch of the phone was a smashing success...... But OnePlus has also been shrouded in controversy for the past weeks. From calling out competitors before releasing an actual device, to building hype to dangerous levels, to holding an unclear and, some think, wasteful and dangerous contest, the company offered lots of ammo to its critics...... OnePlus Technology, one of the companies set up to make and sell the OnePlus One, is fully owned by Oppo Electronic, which also owns Oppo Mobile, the company that effectively makes Oppo phones. Another company, OnePlus Trading Corporation is fully owned by OnePlus CEO Pete Lau, but this company can only sell devices and has no R&D or manufacturing activities. ...... On Reddit, in two threads (1, 2) that ballooned over the weekend, some users complain that OnePlus was misleading about its status as an Oppo sister/daughter company, and that in portraying itself as a feisty startup, the company lied to its fans........ Others don't seem to care at all, focusing on what an amazing proposition the $299 One is.
OnePlus: The little smartphone company taking on Samsung, HTC and co
A new company called OnePlus would work with fan-favourites CynogenMod on the new no-compromise device ..... On paper it will take on Samsung and HTC's new smartphones spec-for-spec. Rarely do we come across a no-name company that has piqued the intrigue of customers so rampantly. ...... OnePlus claims the 3100 milliamp-hour battery will power the One for a whole day in spite of its top-end specs. ...... US$299 for the white 16GB and US$349 for the black 64GB model, will be released in 15 markets commencing from the 25th of April.
OnePlus One: China Rolls Out a Full HD Phone
The handset's striking feature the CyanogenMod 11S version based on Android 4.4 KitKat, which shows it is going to tap some of the smartphone categories like Nexus.
OnePlus One: A high-end device that may kill Nexus 5, iPhone 5S
OnePlus, a phone company founded last year in China, on Wednesday announced its first Android phone called OnePlus One, a flagship device that will be sold at a price of just $299. Despite its price, which is lower than even the price of Google Nexus 5, on paper OnePlus One looks every bit like a flagship device with good design and powerful hardware. ..... OnePlus was founded by Pete Lau in December 2013. Lau was earlier vice president at Oppo, a phone company that has made a name for itself in China by selling attractive and high-end phones at affordable prices. ..... For OnePlus One, the firm has tied up with Qualcomm for the core hardware. For software, it has tied up with Cyanogen Inc, a group that modifies Android to make it more suitable for older devices as well as to make it more feature rich. ..... OnePlus One is powered by Snapdragon 801 quad-core processor running at 2.5GHz. It has 3GB RAM, option of 16GB to 64GB internal storage, 5.5-inch screen with 1080P resolution, 13MP camera with F2.0 aperture and Sony image sensor, 5MP front camera, 3100 mAh battery, NFC and stereo speakers. The device weighs 162 grams and has a thickness of 8.9mm. While the shell of the phone is made using plastic, OnePlus says that wood, Kevlar and denim backcovers will be available as accessories. ...... The phone runs a custom version of CyanogenMod based on Android 4.4. ..... the price is the real appeal of OnePlus One. The other flagship phones like iPhone 5S and Galaxy S5 cost over $600.
Chinese smartphone startup OnePlus aims at developed markets
a venture backed by the people behind OPPO, a Chinese consumer electronics brand where the core team of OnePlus is from. Pete Lau, founder of OnePlus, was VP at OPPO in charge of Blue-ray DVD players. OnePlus will take advantage of OPPO's smartphone manufacturing capability. ...... OPPO is a spinoff from BBK, one of the most famous consumer electronics makers in China in the late 1990's and early 2000's. BBK's VCD player was one of the most popular back then. The establishment of OPPO itself several years ago was for international expansion. ..... The OPPO smartphone, positioned as a premium brand for women, is one of the most profitable smartphone makers (including Xiaomi ) in China. Different from Xiaomi, OPPO has a whole supply chain, from factories to R&D. The company promises to use the highest quality components and the best hardware available. It's a smartphone brand that has been trying to be creative. OPPO Finder, launched in mid-2012, claims it's the thinnest smartphone around the world No. 1, the latest flagship model released in September 2013, has a touch panel on the back, a rotating camera, and an accompanying accessoire. ....... OPPO phones, according to Mr. Lau, have sold well in Southeast Asian countries such as Indonesia. But the OPPO Blue-ray DVD player turned out to be a more successful product line as an international brand. OPPO's are sold well in high-end DVD and Blue-ray player markets in the US and Europe....... To design good quality Blue-ray players for international markets, Pete Lau invited designers from various countries. This time he has already had employees from 12 countries. He doesn't think there is too big a difference between producing an international Blue-ray player brand and one for smartphone and other mobile gadgets.
Newcomer OnePlus aims to disrupt the smartphone industry with 'truly outstanding' devices