ChatGPT discovers a lost Nikola Tesla invention: The Time Screen.

In this SuperPrompt™️ that will be a chapter in the future training course at https://t.co/MmjROXv0yF we explore the edge of fragments of little known data and the interpretive action of an LLM.

The premise of… pic.twitter.com/QpUvd2QSjR

— Brian Roemmele (@BrianRoemmele) March 26, 2023
How much work can AI do in 30 minutes? An astonishing amount.

I had it run a fake product launch for for me, and it conducted research, made strategy, created emails and social campaigns, built websites & graphics, and even did a video. All in 30 minutes. https://t.co/pNbNQK3937

— Ethan Mollick (@emollick) March 25, 2023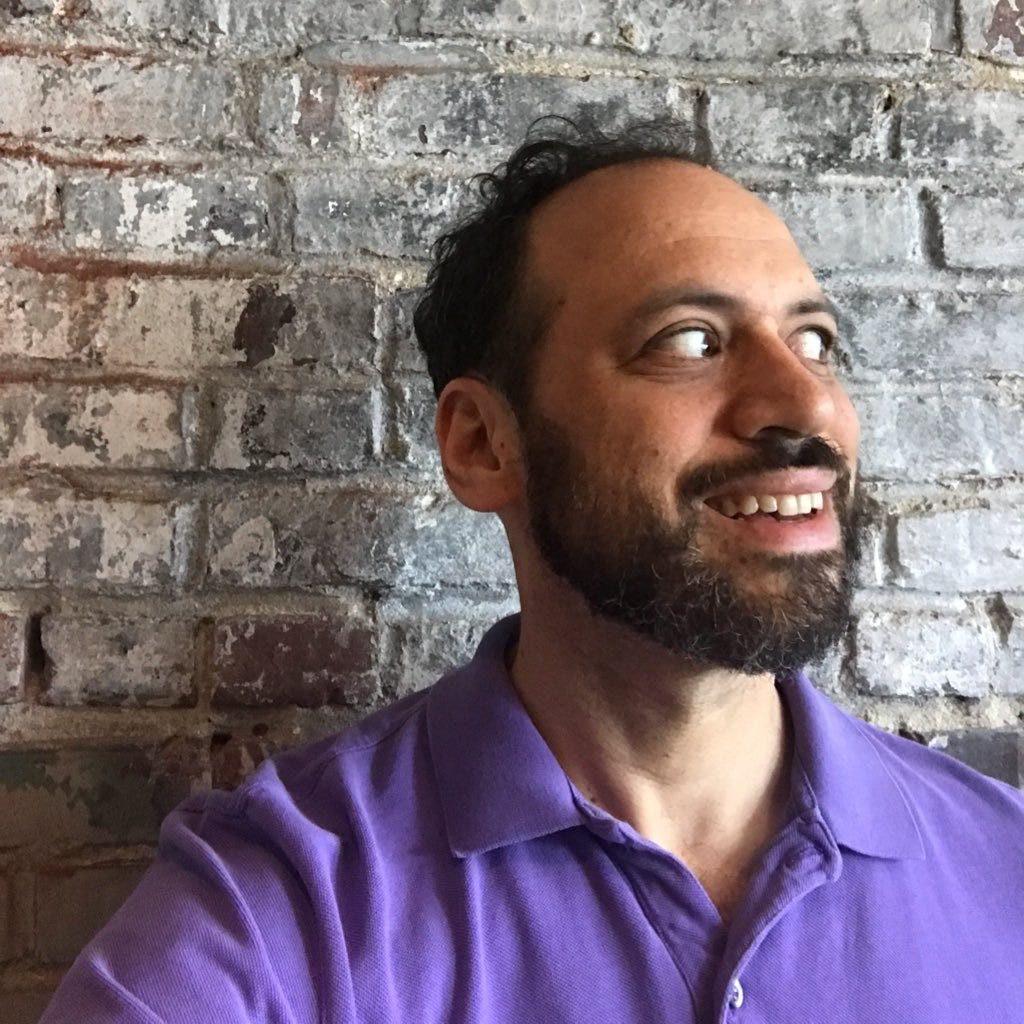 Superhuman: What can AI do in 30 minutes?
AI multiplies your efforts. I found out by how much... The multiplier on human effort is unprecedented ........ I gave myself 30 minutes, and tried to accomplish as much as I could during that time on a single business project. At the end of 30 minutes I would stop. The project: to market the launch a new educational game. AI would do all the work, I would just offer directions. ........ in 30 minutes it: did market research, created a positioning document, wrote an email campaign, created a website, created a logo and "hero shot" graphic, made a social media campaign for multiple platforms, and scripted and created a video. In 30 minutes......... First, I needed to teach AI about my product, or, rather, to ask it to teach itself about the product. ......... a game I authored with Wharton Interactive, designed to teach leadership and team skills on a fictional mission to Saturn ............. I started with Bing, a GPT-4 model that is connected to the internet, and drew on its research capabilities so that it could teach itself about my product and the market it was in .......... All you have to do to make that happen is to ask: Pretend you are marketing genius. We are going to launch the Saturn Parable. You should give me a document that oulines an email marketing campaign and a single webpage to promote the game. ......... 1,757 words. 7 (good!) pages. Two prompts. 2 minutes and 40 seconds. ......... I then used my second system of the day, GPT-4, to actually build the website. Bing can be unreliable at code, and has limited numbers of questions you can ask. So, I gave ChatGPT-4 the instructions above, and told it: You are an expert site designer. You are creating the launch announcement page for the Saturn Parable, outlined below. create the following webpage. Make it an HTML page that I can run on my computer. List any additional assets I will need to make it work and where to put them. (I did cheat a bit here, GPT-4 ran very slowly, and I got busy with other tasks, so, by the time I got the full HTML and css files, I was a few minutes over the time limit, but the results are still pretty interesting) ........ I turned to another AI, MidJourney, to create the images - ...... (This kind of iterated editing feels very powerful, and everyone should give it a try) ........ Can you write me the social media campaign I need to promote this using the Wharton accounts on social? ....... Finally, it looked like I needed to do a video. Fortunately, I had an easy way to make one. I asked Bing for a script, used ElevenLabs to create a realistic voice, and D-id to turn it into a video. You can see it here! ...... Bing generated 9,200 words or so of text and a couple images, GPT-4 generated a working HTML and CSS file, MidJourney created 12 images, ElevenLabs created a voicefile, and DiD created a movie. ........... Input: I made less than 20 inputs to all the systems to generate these results. .......... This would have been a lot of work for me to do. Many hours, maybe days of work. I would have needed a team to help: I have never done an email marketing campaign, don't know CSS, and certainly could not have staged a photo like the one in the hero image. ....... When we all can do superhuman amounts of work, what happens? Do we do less work an have more leisure? Do we work more and do the jobs of ten people? Do employers benefit? Employees? I am not sure. Historically, these sorts of disruptions lead to short-term issues, and long-term employment growth. .......... I was able to do this using the tools available today, without any specific technical knowledge, and in plain English prompts: I just asked for what I wanted, and the AI provided it. That means almost everyone else can do it, too. We are already in a world of superhumans, we just have to wait for the implications.
.
Secret Cyborgs: The Present Disruption in Three Papers
The future is already here, we just need to figure out a few details....... It took only 10 years from when Edison first revealed the electric bulb and electrical system until New York City had switched almost completely from gas to electric lighting. ....... everything changed in November with the release of ChatGPT ......... was the fastest technology to reach 100 million users. ........ It required no addition technology, platform, or process to be effective. ..........
.
The point is that the disruption from AI isn't theoretical. It is here. It requires no advances beyond the tech that you have access to right now for $60/ month (ChatGPT Plus & Midjourney & DiD & 11Labs)

And lots of people are (often secretly) already using AI to do their work.

— Ethan Mollick (@emollick) March 26, 2023
Also … I would never wear that outfit

— Elon Musk (@elonmusk) March 26, 2023
Sixteen young people from Montana have sued the state, arguing that its support of fossil fuels violates the state Constitution that guarantees "the right to a clean and healthful environment." https://t.co/r6dSNnalZy

— The New York Times (@nytimes) March 26, 2023
Alumni of which institution are most likely to mention it in the first 60 seconds of a conversation?

— Anand Sanwal (@asanwal) March 26, 2023
"Taiwan is where Russia's war in Ukraine and China's economic underperformance overlap and produce a dangerous resonance."

-Pavel K. Baev https://t.co/R12wtrDloI

— Brookings Foreign Policy (@BrookingsFP) March 26, 2023
Liquid trees are an experiment to work around lack of space in big cities: they contain 600 liter of water and work by using microalgae to bind CO₂ and produce pure oxygen through photosynthesis

[read more: https://t.co/1fvwSco3ND]
[📹 nanaibrahim2023]pic.twitter.com/a0UGJYPOOa

— Massimo (@Rainmaker1973) March 26, 2023
आज आफ्नै कुरा ! धन्यवाद कान्तिपुर कोसेली । https://t.co/kJEm2bxaFi

— bhojraj pokharel (@PokharelBhojraj) March 25, 2023
A government pilot program in Ireland is giving 2,000 artists $350 a week with no strings attached, allowing them to concentrate on creative pursuits. It's the latest sign of growing international interest in universal basic income. https://t.co/Muf5i1z18W

— The New York Times (@nytimes) March 26, 2023
🔥 New Piece 🔥

The Relentless Drive of Christina Cacioppo

Building Vanta into a $1.6B category-creator

The latest Just Go Grind founder deep dive of @christinacaci 👇 https://t.co/p8Q2ubliTg

— Justin Gordon (@justingordon212) March 26, 2023
What happens in the future.

Goodbye $GOOGL pic.twitter.com/IA6wkFgSk7

— Mukund Mohan (@mukund) March 26, 2023
AI will dramatically speed up the number of experiments a startup can run. This itself will speed up how fast startups reach product/market fit. Once this starts to happen, the definition of a startup will change. We might end up calling more of them businesses from the start.

— hiten.eth (@hnshah) March 26, 2023
"John Wick: Chapter 4" took in roughly $73.5 million at North American theaters on its opening weekend. Film series almost always fall apart by their fourth installments, but the "John Wick" franchise has now shown dramatic growth with each sequel. https://t.co/huMT0eWnXK

— The New York Times (@nytimes) March 26, 2023
Me: It's terrible at writing essays. Absolutely awful.

Jessica: That's good though, isn't it? Wouldn't you be wigging out if it was really good at writing essays?

— Paul Graham (@paulg) March 26, 2023
It's OK if you can't go to the weekly happy hour. You can build relationships by seizing easy opportunities to connect. https://t.co/m32baNc5r5

— Harvard Business Review (@HarvardBiz) March 27, 2023
deep breath in. deep breath out.

— YouTube (@YouTube) March 26, 2023
Elon Musk said Twitter is now worth about $20 billion, according to an email he sent the company's employees — a significant drop from the $44 billion that he paid to buy the social network in October. https://t.co/UguitAMz8j

— The New York Times (@nytimes) March 26, 2023
What's your favorite Hard Science Fiction book (or book series)?

— Peter H. Diamandis, MD (@PeterDiamandis) March 26, 2023
What's the most valuable lesson you learned as a founder that you wish someone told you beforehand?

— Darren Marble (@darrenmarble) March 26, 2023
Extreme MAGA House Republicans' proposals would rip food assistance away from families.

It would put 1.2 million women, infants, and children in jeopardy.

My budget would put food on the table – in school cafeterias and American homes.

— President Biden (@POTUS) March 26, 2023
In an AI dominated world, we WILL NOT SURVIVE without blockchain technology & web3.

Here's what you need to know:

— Misha (@mishadavinci) March 26, 2023
The web2 era has been a lesson in the consequences of centralized networks owned by a few tech giants.

The free world is hardly free.

It's almost entirely controlled by Google, Apple, Meta, Microsoft, and Amazon. https://t.co/9zQ7VUVw3V

— Misha (@mishadavinci) March 26, 2023
AI exponentially increases this centralization and the power that comes with it.

"People need to learn to manage a technology that could give a handful of companies or governments an incredible amount of power."

~ @geoffreyhinton "the godfather of AI" pic.twitter.com/I1i0wTlhZf

— Misha (@mishadavinci) March 26, 2023
"We are talking about the technology but ignoring the business models that power AI.

The age of free, fun demos will end, as it always does.

Then, the AI will become what it needs to become to make money for the companies behind it." @ezrakleinhttps://t.co/3VURqDnAZw

— Misha (@mishadavinci) March 26, 2023
3. AI could devour all of human culture.

According to OpenAI, "Your conversations may be used by our AI trainers to improve our systems."

LLMs like GPT-4 are being trained not only on everything we've produced for 1000s of years, but on our ideas and dreams for the future.

— Misha (@mishadavinci) March 26, 2023
"With its mastery of language, AI can hack and manipulate the operating system of civilization.

We could end up with a world where a non-human intelligence shapes our stories, images, laws, and policies."

~@harari_yuvalhttps://t.co/2yaCPOUNBy

— Misha (@mishadavinci) March 26, 2023
1. Web3 reverses the massive centralization of ownership and control that AI exacerbates.

And re-distributes power, access, and wealth to communities and individuals.

More from @cdixon on the importance of web3 👇 https://t.co/P9FtkvFRoz

— Misha (@mishadavinci) March 26, 2023
2. Web3 solves the 'EVIL' problem by using code.

Most tech & AI platforms will start out with good intentions but, like Google, eventually stray.

Web3 bakes the values and rules into the code.@cdixon 👇 https://t.co/mxe9x4QGBI

— Misha (@mishadavinci) March 26, 2023
Web3 can protect the social fabric from a flood of synthetic content that could destroy human civilization. @TziokasV https://t.co/ux5G7IjA74

— Misha (@mishadavinci) March 26, 2023
Web3 can establish identity, and proof of humanity in a world of AI bots. @niickdoteth https://t.co/QNYF5W1gEi

— Misha (@mishadavinci) March 26, 2023
AI will feature prominently in the crypto user experience.

Podcast hosted by @ghcryptoguy with @nansen_ai CEO @ASvanevikhttps://t.co/nVyQ500TTA

— Misha (@mishadavinci) March 26, 2023
@kelmoujahid https://t.co/ym7xCEXYH3

— Misha (@mishadavinci) March 26, 2023
That's what people who have the woke mind virus look like to me

— Elon Musk (@elonmusk) March 27, 2023
What if OpenAI doesn't need Chrome or any other browser? ........ What if they don't need middle-men either? Instead, they could allow operation providers to connect directly with customers through the ChatGPT interface. .......... a conversational user interface, like those found on WhatsApp or Telegram, doesn't require full browser capabilities. It's a completely different interaction, and one that could revolutionize the way we access information. ........... And what if OpenAI took a 15% cut from each transaction that happens on ChatGPT (hi 👋🏼 Apple)? That's a game-changer right there. Suddenly, large e-commerce shops, marketplaces, and aggregators become obsolete. Until now, those companies existed because they were more capable of digital operations than operation providers. But with the advent of conversational interfaces, the entire tech infrastructure of websites is changing. Those websites are losing ground quickly, and operational providers are stepping up to take their place......... with a universal interface like ChatGPT, Nike won't need high-level digital capabilities anymore. They'll just be a supplier with a simple ERP-API connection. This means many new possibilities for Nike. ......... what if OpenAI doesn't even need your laptop, phone, or any other device in the future? Could they potentially become a device manufacturer and own the entire journey? Maybe they'll create something like the NoPhone idea, or internet-connected cableless headphones, or even IronMan's Jarvis. .......... This can be the next big thing after 90s web1.0, 2000s web2.0, 2010s mobile era - 2020s AI era. ........... people were expecting multiple LLM models from OpenAI, Google, Meta, and other players. However, an ecosystem of plugins could create significant momentum for OpenAI, potentially making it difficult for other companies to compete. This is reminiscent of how the iOS AppStore was always superior to other app stores, which helped make the iPhone such a big success story. ....... As for the future of AI, it's both exciting and scary. The possibilities are endless, but we need to be mindful of potential downsides and work to mitigate them as we continue to push the boundaries of what's possible. But with the right mindset and approach, the future is looking brighter than ever......... The ideas and frameworks are mine, but article is partially written with support of GPT-4.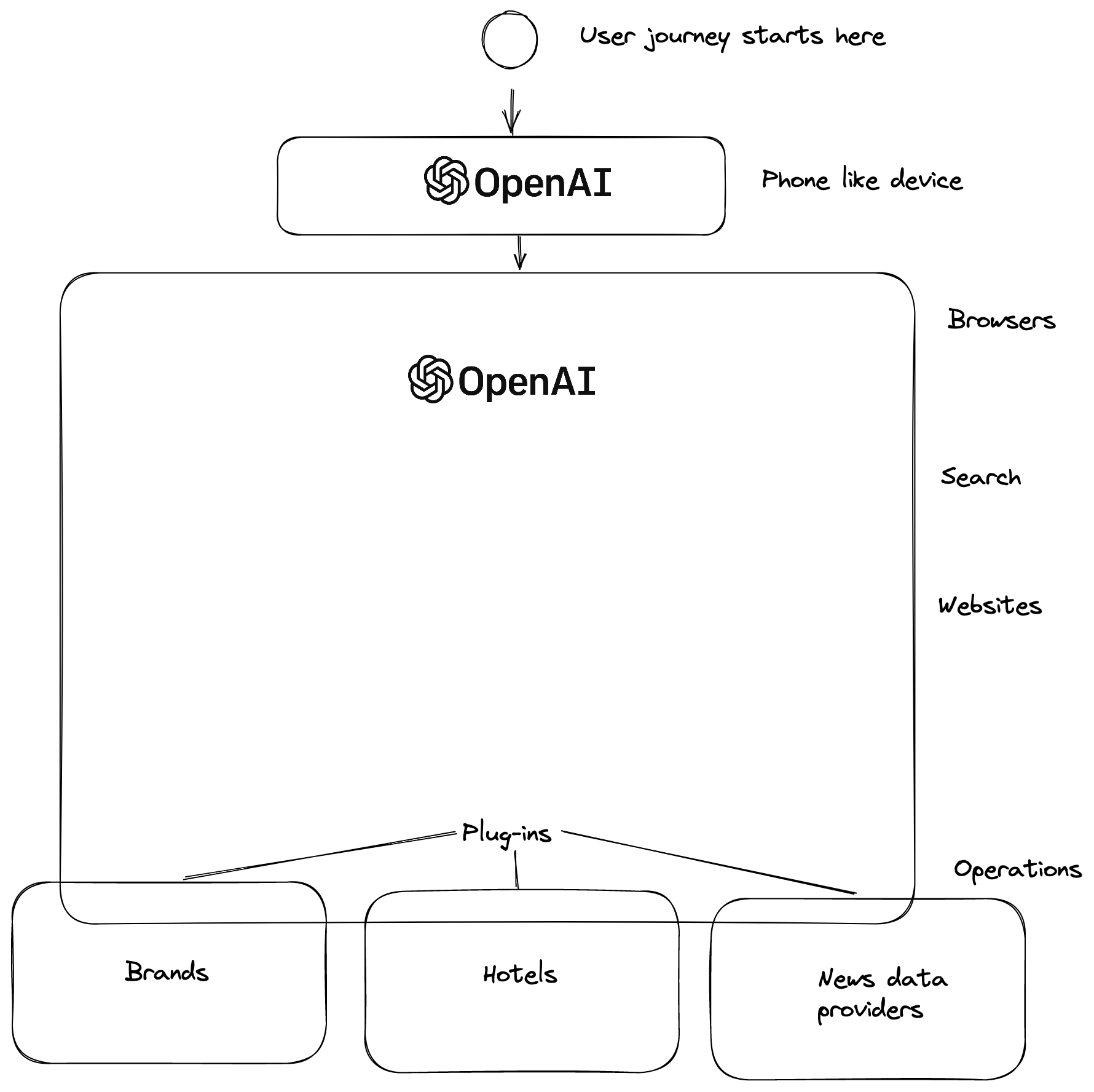 https://tevfik.xyz