On Twitter, if you don't have the blue checkmark, you no longer exist.

— Paramendra Kumar Bhagat (@paramendra) July 20, 2023
Twitter Blue: What does paying for Twitter actually get you, and should you do it?
Are the additional features worth your $8?
.
Should You Pay for a Checkmark on Twitter, for Yourself or Your Business?
Twitter's Blue Check Apocalypse Is Upon Us. Here's What to Know.
Elon Musk, Twitter's owner, is changing the platform's longstanding practice of verifying accounts. That has implications for a range of users.
.
How To Get Verified on Twitter in 2023: The Essential Guide
Twitter's verification process has changed in the past year. Learn how to get verified on Twitter in 2023 with our simple guide.
.
Half of Twitter Blue subscribers have less than 1,000 followers
And Elon Musk now says he wants to force these users all into your feed. ...... starting April 15, the platform apparently will no longer promote non-paying Twitter Blue subscribers via its recommendation algorithm on the For You feed. ....... around half of all users subscribed to Twitter Blue have less than 1,000 followers. That's approximately 220,132 paying subscribers. ........ 78,059 paying Twitter Blue subscribers have less than 100 users following their account. That's 17.6 percent of all Twitter Blue subscribers. ......... there are 2,270 paying Twitter Blue subscribers who have zero followers. ....... Twitter Blue currently has a total of 444,435 paying subscribers. ......... less than 0.2 percent of Twitter's 254 million daily active users, a metric previously shared by Musk, are paying for Twitter Blue. ....... only 6,482 legacy verified accounts have paid to subscribe to Twitter Blue. ....... There are approximately 420,000 legacy verified accounts in total, which are mostly celebrities, pro athletes, journalists, influencers, and other notable users that received the checkmark badge for free under Twitter's old verification system. .......... Musk shared that in a few weeks only Twitter Blue subscribers would be recommended to users in the platform's For You feed. (Hours later, Musk "clarified" that this will also include people users directly follow.) ............ The reason so many celebrities chose to stay active on Twitter over other social media platforms was originally due to the legacy verification system. Alexander said he doesn't plan on even staying on Twitter after the legacy verification badges are removed.......... Many Twitter power users who have interacted with Twitter Blue subscribers note that they are most often far right wing accounts, cryptocurrency scammers, and hardcore Elon Musk supporters. We will soon find out if filling users' feeds with some of the least influential accounts on the platform, as Musk plans to do, is a good business strategy.
.
Why Elon Musk's cull of Twitter 'verified' blue ticks could prove costly
Twitter's aristocracy is no more. Last year, Elon Musk described the verification process as a "lords & peasants system" and on Thursday he deployed the guillotine. Feudalism has now given way to capitalism: money gets you status....... The change has stripped the blue tick from about 400,000 legacy verified accounts. ....... Subscribers to the new service will get boosted rankings in conversations and search, while their replies will also receive greater prominence. Tweets that they interact with will also benefit. ......... maintaining influence or presence on the platform will cost money from now on, whereas it was free under the previous system ........ users will still be able to see unverified accounts that they follow on the platform's default For You feed. .......... Musk's move is largely rooted in financial motivations, despite the anti-feudal rhetoric. ......... He said in his 1 November Twitter thread that giving paid-for verified accounts priority in replies, mentions and search was "essential to defeat spam/scam", presumably under the logic that a bot account would not pay for a tick and would thus be less prominent. ........ In its last published set of accounts, advertising represented 90% of Twitter's $5bn (£4bn) in annual revenue. According to Musk recently, revenue is due to drop to less than $3bn this year. Costs have also been slashed sharply, with staff numbers cut by about 75% to 1,500 people, which Musk says has seen off the threat of bankruptcy. But if advertisers do not return in force he will need more than the 600,000-635,000 Blue subscribers the platform is estimated to have, which equates to about $5m+ a month in revenue.
.
Twitter Blue for Business 2023: How much does a Twitter checkmark cost?
Twitter Blue is worth it if you want to access the prestigious checkmarks, skyrocket your brand awareness, and receive 50% fewer ads....... Users with a Twitter Blue subscription will have their tweets prioritized, which could give you more engagement on the app.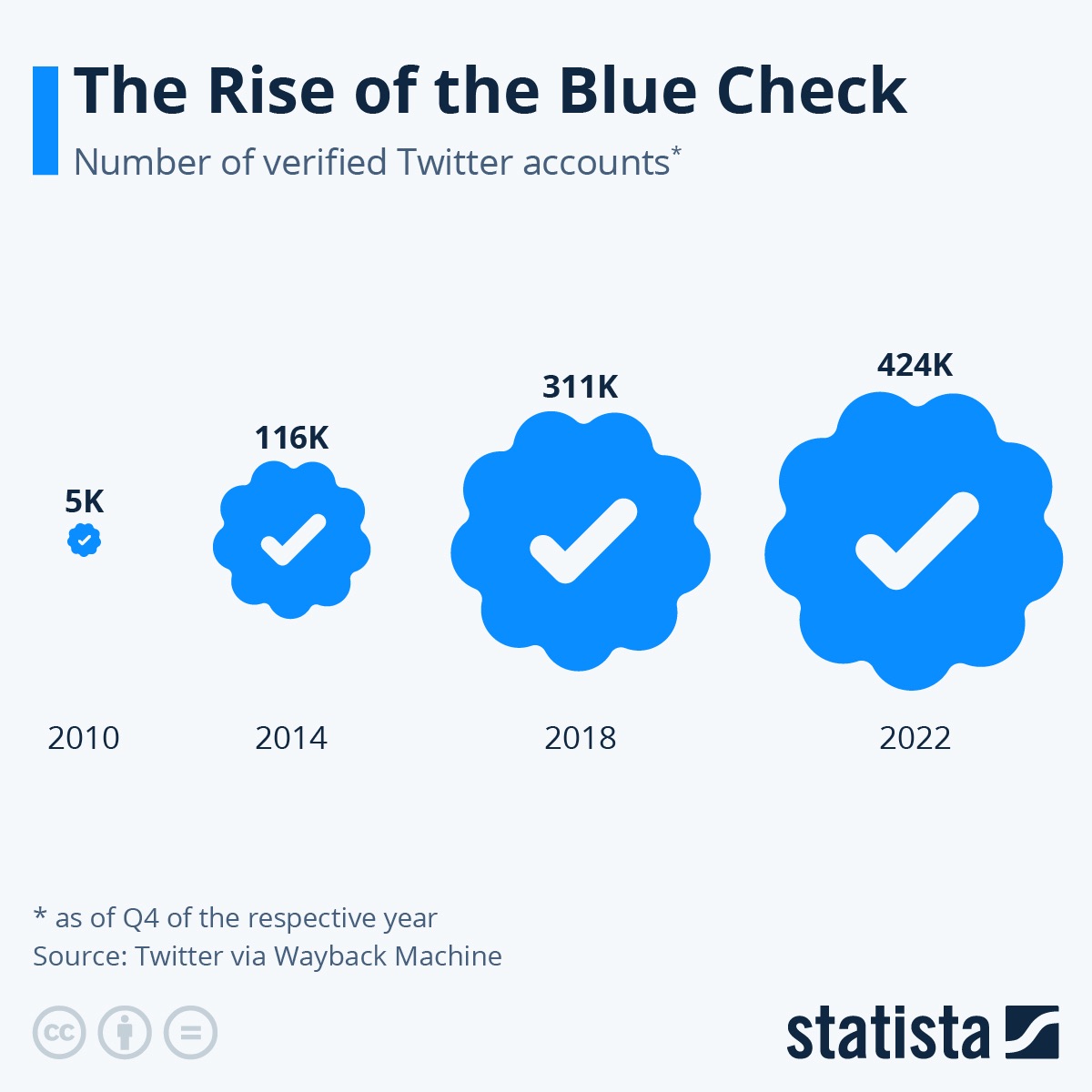 How Elon Musk transformed Twitter's blue check from status symbol into a badge of shame
Twitter's current lords & peasants system for who has or doesn't have a blue checkmark is bullshit.

Power to the people! Blue for $8/month.

— Elon Musk (@elonmusk) November 1, 2022
Price adjusted by country proportionate to purchasing power parity

— Elon Musk (@elonmusk) November 1, 2022
You will also get:
- Priority in replies, mentions & search, which is essential to defeat spam/scam
- Ability to post long video & audio
- Half as many ads

— Elon Musk (@elonmusk) November 1, 2022
And paywall bypass for publishers willing to work with us

— Elon Musk (@elonmusk) November 1, 2022
This will also give Twitter a revenue stream to reward content creators

— Elon Musk (@elonmusk) November 1, 2022
Give 1,000+ people a phone, computer, & internet connection.

Check back in a month.

Some will have brands, businesses, and products, while others will have arguments, drama, and hatred.

Build or destroy.

It's literally your choice.

— Justin Welsh (@thejustinwelsh) July 19, 2023
Yesterday, I moved to Costa Rica.

This is the setup I've dreamed of since high school:

• Internet money
• Airbnb in the rainforest
• Living with my entrepreneurial brother
• 4-min walk to an epic beach & surf break

And to think I started just 9 months ago.

I love Twitter. pic.twitter.com/OUnlUD2sXc

— Matt Mic (@themattmic) July 20, 2023
Happy birthday to my amazing daughter @ToscaMusk Thank you for 49 years of joy🩷🩷
How did she manage to be smarter, stronger and funnier than me?🤨🤣
Tosca, have a wonderful celebration today 🥳🎂 pic.twitter.com/eXWnRjxKh6

— Maye Musk (@mayemusk) July 20, 2023
"If your business depends on you, you don't own a business—you have a job.

And it's the worst job in the world because you're working for a lunatic."

- Michael Gerber, The E Myth

— Andrew Wilkinson (@awilkinson) July 19, 2023
Pent-up energy from the pandemic xlows.

— Paramendra Kumar Bhagat (@paramendra) July 20, 2023
The trial of Alexey Navalny and Daniel Kholodny is over. The prosecution demands a cumulative sentence of 20 years in a maximum-security penal colony for Navalny and 10 years in a general regime penal colony for Kholodny. The verdict will be announced on August 4 at 16.00.

— Alexey Navalny (@navalny) July 20, 2023
A generation of young people are asking ahead of this weekend, "What's a movie theater?"

— Danny Groner (@DannyGroner) July 20, 2023
Trees make towns look rich, and towns that look rich become rich. https://t.co/PzwiNGtEUK

— Paul Graham (@paulg) July 20, 2023
Extending the supported lifetime for our initial GPT-3.5 Turbo & GPT-4 models in the API: https://t.co/QSs4pBkyYp

— Greg Brockman (@gdb) July 20, 2023
While I was in the UK on a brief vacation, I managed to eat for the first time a cheeseburger inside a paratha. And, yes, it was glorious. #chaiandchapati pic.twitter.com/SRtUCSDyWX

— Mehdi Hasan (@mehdirhasan) July 20, 2023
While I was in the UK on a brief vacation, I managed to eat for the first time a cheeseburger inside a paratha. And, yes, it was glorious. #chaiandchapati pic.twitter.com/SRtUCSDyWX

— Mehdi Hasan (@mehdirhasan) July 20, 2023